4 Beers to Put a Smile on Mom's Face This Mother's Day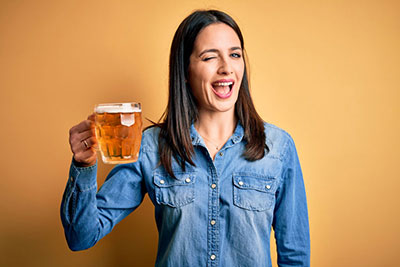 Mother's Day is right around the corner, so if you haven't found the perfect gift yet, we're here to help! We've compiled a short list of craft beers that you can't pass up on if your mom is a beer lover. In fact, combine it with the Fizzics DraftPour for that "fresh-off-the-tap" taste, and you got yourself the perfect gift. Guaranteed!
Materfamilias - Mother's Brewing Company (ABV: 11%)
Right off the bat, this beer makes a statement. The name itself, Materfamilias, means "female head of the house," which is a nod to the level of dedication and love every mom puts forth. Plus, it's extremely fitting for Mother's Day! This imperial stout pours dark and decadent with aromas of roasted malt, chocolate, and bourbon. The flavors open up to well-balanced notes of toffee, vanilla, chocolate, and a hint of rum, but finish with an appropriate amount of bitterness. It's the perfect beer for the perfect mom.
Blue Moon Belgian White - Coors Brewing Company (ABV: 5.4%)
Since outdoor brunches are pretty much off the table this year, we say bring brunch to your mom. Gather her favorite lunch meal, breakfast pastries, and don't forget the obligatory beermosa. This drink is super easy; the only necessary ingredients are beer and orange juice. The only question is, which beer? To that we say, is there any other beer besides the one famously known for its orange pairing? (Yes, there are plenty of other options, but we think Blue Moon Belgian is the best.) You can also spice it up with a little triple sec for an extra kick, and, of course, garnish with an orange slice. Ta-da! You're a beertender!
Weekend Warrior Hazy Pale Ale - Double Nickel Brewing Co. (ABV: 5.8%)
If your mom likes her beer light and fruity, then that's what you shall give her. The Weekend Warrior is an APA that's a little sweet, a little dry, and a whole lot of wow! It pours hazy golden with a pillowy, white head. The flavors are light and fruity, from peaches and apricots to tangerine and grapefruit, but finish off dry with moderately hoppy notes. It's a nice beer to enjoy on an even nicer spring day.
Young's Double Chocolate Stout - Eagle Brewery (ABV: 5.2%)
Nothing says "Happy Mother's Day" like a box of chocolates (accompanied by flowers)! But for the beer-loving mom, why not go one step further? Young's Double Chocolate Stout combines your mom's two favorite things, beer and chocolate, in one! As a dessert beer, this milk stout isn't overly sweet. With notes of semisweet chocolate and a hint of espresso, the rich taste lingers in the best way possible. Available in both bottles and carbonated cans, we think this winner tastes best straight from our beer dispenser.
Don't wait any longer to order a Fizzics DraftPour for your mom or that special lady in your life this Mother's Day or any day of the year! Gifts take between three to four days to arrive, so make sure you order now to surprise her with the perfect holiday gift!