An A(beer)viated History of St. Patrick's Day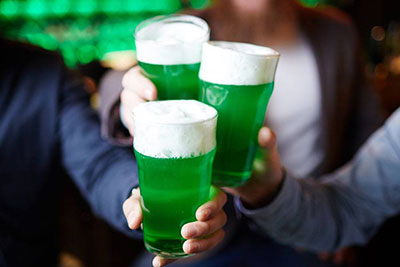 Just behind Mardi Gras and New Year's Eve, St. Patrick's Day is the third biggest drinking holiday in the United States. Irish or not, Americans celebrate St. Patrick's Day with green clothing, green waterways, exciting parades, and an insatiable appetite for beer! Although we think of the holiday in this way, St. Patrick's original celebration did not have such extravagant parades or bright green accoutrements. Instead, it was (and still is) a Roman Catholic feast day in Ireland commemorating the death of the country's 5th-century patron saint.
So, how did these traditions we know so well — especially the part about the beer — become St. Patrick's Day staples in the U.S.? We at Fizzics wanted to know and thought you might be interested as well!
A Timeline (of Sorts)
The Man & The Missionary
Before we dive into the Irish - American day of merry-making we know and love, we need to travel back to the 5th century. St. Patrick was born in Britain, was abducted and enslaved by Irish raiders as a teenager. After six or so years, he escaped enslavement and became a cleric back in his homeland. Fifteen years later, he had a dream that all the people of Ireland were calling him back to the island. St. Patrick acted on this vision and effectively brought Christianity to Ireland as a missionary and bishop.
Although the years of his birth and death are still contested, reliable sources indicate that St. Patrick died on March 17. By the 17th century, this date became an official Christian feast day, which Irish citizens celebrated by attending a special mass, eating a modest meal, and retiring for the evening without a sip of alcohol. In fact, all the pubs in Dublin were closed on the 17th in observance of the holy day!
St. Patrick's Day Across the Pond
Although hotly contested by stalwart Irish - American Bostonians, the first St. Patrick's Day celebration in North America occurred in the year 1600 in St. Augustine, FL, and the first St. Patrick's Day parade happened one year later in the same city. Both were planned and organized by an Irish vicar in the Spanish colony. Boston, however, can claim the first St. Patrick's Day observance in the Thirteen Colonies in 1737.
Because most of the Irish were Protestant, the religious aspect of this feast day was replaced in good measure with Irish culture, traditions, and nationalism as it made its way to New York and Philadelphia, and then to the remainder of the country over the years.
Okay, So Where's the Beer?
As you can tell, drinking was not a popular repast of St. Patrick's Day celebrants for most of its history, but that changed after the Irish potato famine when Irish Catholics immigrated to the U.S. in droves. Since they observed St. Patrick's Day as a holy feast day, Lenten restrictions on drink and food were forgiven for the day, thus bringing alcohol into the equation! There is additional historical support of alcohol consumption on this day, as St. Patrick himself was known as an alcohol enthusiast!
Today, we celebrate St. Patrick's Day by enjoying beers from Irish breweries (i.e., Guinness, Smithwick's, O'Hara's, & Harp), and at Fizzics, we have the perfect portable beer dispenser to enjoy home draft taste, anytime, anywhere!
To celebrate St Patrick and great beer, between 3/1/2020 and 3/17/2020, you can get 20% off select DraftPour models + Free Shipping when you use promo code "LUCKY20" at checkout. Take advantage of this opportunity before the offer goes the way of the Irish snake!