Beer and Bureaucracy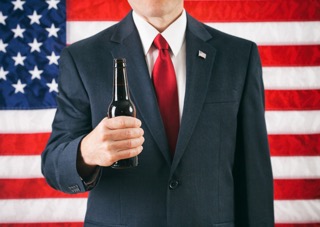 With the spirit of Independence Day still alive the entire month of July, what better way of honoring the founding fathers than learning about their beer of choice. Fizzics is here to provide a brief timeline of the former presidents' beer shenanigans. Fizzics supports our fellow beer enthusiasts and urges all to savor in the delicacy of a nitro style beer from our draft beer dispenser called DraftPour, and its state-of-the-art Micro-Foam Technology.
Our Founding Fathers in Foam
Starting off our history lesson is George Washington. Good old George was said to enjoy English style porter and even brewed his own light ale on his plantation. Next up is the third president of the United States, Thomas Jefferson. Jefferson was serious about homebrewing and created his famous recipes at his estate's brewery.
During James Madison's presidency, Madison proposed a government-run brewery, but Rutherford B. Hayes halted that dream years later when he ordered a ban on alcohol in the White House. Woodrow Wilson took this much further, shutting down all of the country's breweries for the sake of conserving grain for the troops.
Beloved FDR repealed the 18th amendment in 1933, which meant no more Prohibition! JFK kept the momentum going, enjoying a drink himself, with his beverage of choice being Heineken. The 39th president, Jimmy Carter, allowed homebrewing to be legal in the US during his presidency. Recent president Barack Obama is a fellow homebrewer and has even shared his personal recipes with the public.
Stay Festive With Fizzics All Summer Long
Beer is a drink that has been loved by our country for years, dating all the way back to the founding fathers. There's a reason this delicious beverage has been appreciated for so long! Let's keep the celebration of the 4th of July going all month long by enjoying a nice cold glass with Fizzics. Fizzics's personal beer dispenser transforms any beer into fresh from the tap, nitro-style draft beer. Our Micro-Foam Technology creates the perfect aroma and smooth mouthfeel that enhances the flavor. It's everything you could possibly want in a beer.
Do yourself a favor and pour a tall one with Fizzics. Order a DraftPour today! With the code "redwhite+brew," you'll receive 10% off and free shipping on orders over $75!