Celebrate the Big Game This Year with Great Food and Super Beer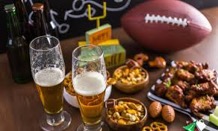 Celebrate the Big Game This Year with Great Food and Super Beer
The Big Game is upon us, and the teams are the San Francisco 49ers vs. Kansas City Chiefs. Both sides played well throughout the season, with the 49ers going 13-3 and KC going 12-4. We are up for an evenly-matched game that is bound to be a nail biter. And, as excited as we are to sit down with friends and family and shout obscenities in anger and excitement at the television screen, we are equally as pumped to eat some great food and throw down more than a few beers in honor of this momentous celebration of American bravado!
Although this football game is a special time for all Americans and advertisers, it is also an excellent time to appreciate the fact that the people in Kansas City, MO, and San Francisco, CA, are super psyched for February 2, 2020! So, to show respect and enthusiasm for these two great cities, we want to share an idea we have for a Game-Day Party that will scintillate the taste buds and get everyone pumped!
Game-Day Menu
Since the game is featuring two great cities, we thought that it would be awesome to feature famous foods from those places:
The Kansas City BBQ
You can't go to KC ? nay, you can't think about KC ? without thinking about barbeque. Midwest barbeque is some of the best food on the planet, and who are we to deny ourselves the wonders of this American staple? We're going to make some BBQ chicken wings and smoked brisket doused in sauce and spice, and we'll savor those fat, juicy burnt ends like they were offerings to the gods on Olympus!
San Francisco Seafood
San Fran is a city well-known for a big red bridge, the Maltese Falcon, and seafood. Therefore, we will honor this side of the field with an SF classic dish: the Cioppino. This dish, with a tomato base and a medley of tasty fish (with and without shells), will make a delicious competitor to the red-meat BBQ of Missouri. We're going to include some Dungeness crab, mussels, clams, baby shrimp, and sea bass, along with a healthy dose of heat!
So you might be thinking, BBQ and fish soup? Did you guys take a drunken foray through the Food Network one night and lose focus on what's truly important? And of course, you are right to be curious! But have no fear, we could NEVER forget the beer!
Super Beer Selections
Since we're going to have two very different plates featured at our party, we'll need some Fizzics beer to wash it down, clean the palette, and do it again!
For the KC BBQ, we are going to drink some craft lagers and amber ales to not take away the sweetness and spice of the sauce. Without the hop and bite of IPAs or conflicting flavors from some of the potent winter warmers, lagers and ambers with BBQ is a match made in brew heaven.
For the SF seafood, we're going to go light, not with the beer, but with the kind of beer. Traditionally, seafood pairs with a nice white wine, but we're watching a football game, guys and gals! Fine crystal will not touch our table! We're going to pick a few American pilsners and pale ales from local breweries for a that crisp, clean texture and notes of citrus that will taste really good with that Cioppino!
When it comes time to paint faces red and white or red and gold, we're also going to make some regional classics and face-off with food! If you still need a DraftPour for your Game-Day Party, click here now!