Don't Fear the Foam: The Science Behind Why You Need Good Head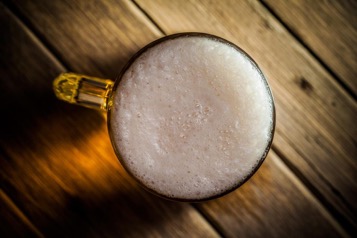 One of the quintessential components of a great beer is the perfect head. While perhaps it was a previously underrated and underestimated element of beer in decades and generations past, the foam that graciously adorns each and every beer adds to its flavor, aroma, and even visual appeal. You know how we know that? Science. Yep, that's correct — through science we've been able to ascertain that beer foam actually makes the beer taste better. Who would've guessed it?!
At Fizzics, science is precisely what we used when we developed our state-of-the-art technology we call Micro-Foam. Our DraftPour utilizes fluid dynamics and sonic technology, all patented and engineered by our experts to enhance every visceral sensation of the beer drinking experience. From the way it smells to its taste, the way it looks, its rich, creamy mouthfeel, and the way it sounds...you know that sound of a fresh draft being poured, right?
Anyway, beer foam is no longer something to discard, pour off, or otherwise neglect and disregard. It's critical to the way we experience your favorite beer. Let's take a look at the science behind why.
Foam Fundamentals
The creation of bubbles creates beer foam. This process is known as nucleation. It involves proteins and peptides found in the grains that act as foaming agents and can determine the amount of foam in each distinct type of beer. In fact, individual beer foams can range in retention, texture, rigidness, and more.
Releasing the Flavor
When a beer is topped with a head of foam, it tastes better because of compounds that permeate the walls of the bubbles as they rise up from the bottom of the glass. Fizzics Micro-Foam's creamy head softens the palate, making it more receptive to the subtle flavors, notes, and undertones in the beer. Not only that, but since Micro-Foam allows more flavor compounds to rise to the surface of the beer, the aroma is enhanced, which in turn helps to improve flavor.
Get Great Head Today!
Fizzics converts your ordinary cans and bottles of beer including lagers, pilsners IPAs, stouts, porters, brown ales, and more to a nitro-style draft and enjoy enhanced flavor, aroma, and mouthfeel.
We all need good head. Stop depriving yourself and get some today. Learn more about Fizzics here.