Gifts to Celebrate the World's Best Beer-Loving Dad on Father's Day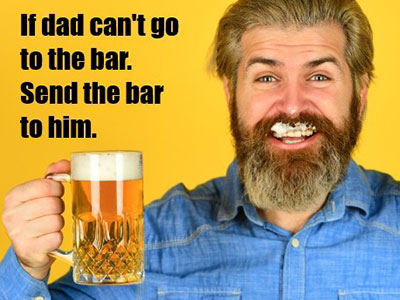 Your dad has been the unsung hero your entire life, always ready to give you the shirt off his back. Father's Day is the perfect time to show him just how much you appreciate him! We're not talking about a six pack of beer that probably won't last the day (although we don't know too many dads that'll turn down a cold one). We're talking about something that he'll be able to use for years to come and think of you every time he does.
A Growler for the Dad Who Loves the Outdoors
Is your dad an avid outdoorsman, camper, or tailgater? If so, he'll love having a growler of his favorite craft beer while exploring. Growlers have been around since the 1800s (who knew, right?), but they have recently gained a lot more popularity amongst craft beer enthusiasts. We've found that the best growlers are stainless steel, which is well-known for being a great insulator which keeps the beer cold for those long hikes!
A Chiller Stick for the Dad Who Takes His Time
Does dad take his time drinking a beer and complain it gets warm? Luckily, there's a product just for that! Beer chiller sticks are like ice packs for your beer bottle or glass, except they don't release condensation that waters down your beer. These babies are meant to live in your freezer and go right in a can or bottle when you're ready to use them. Once you're done, just rinse, dry and pop them back in the freezer so they're ready for the next beer.
A Home Brewing Kit for the Dad Who Needs A Hobby
If your dad is serious about his beer, we have no doubt he's thought about trying his hand at brewing at least once or twice. Now, you can make his dream come true by gifting him a home brewing kit. These sets come with everything he needs to make beer at home! He'll have so much fun experimenting with this new kit he might never come out of the basement or garage. The best part comes when he asks you to join him to try out his newest IPA!
A Draft Beer Dispenser For Fresh-From-The-Tap Taste!
There's no question about it. When it comes to beer, fresh from the tap always wins! The Fizzics DraftPour Beer Dispenser is built with patented Micro-Foam technology that uses sound compression and fluid dynamics to enrich the aroma, taste, and mouthfeel of every bottle and can of beer! What better gift is there to complete your dad's man cave?
We hope this list has given you some inspiration to find your dad a gift he'll truly appreciate.
You can browse our website today to order your beer dispenser gift.
We'll make sure it gets there in time for you to enjoy a beer with dad on his special day!