How to Plan Your Thanksgiving Dinner in Beers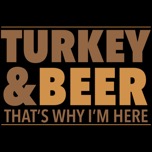 With the fall season in full swing, Thanksgiving dinner is nearly here. When we think about Thanksgiving — the brisk air, crunchy leaves, football games, and roasting turkeys only heighten our excitement for the season's best beverage: beer!
If you were thinking of wine as the best beverage...we're not angry, just disappointed.
Ever choose the wrong wine for the entree and have your guests stick their noses in the air, mutter in disgust — Oh, mon Dieu! — and shuffle out with their bowler hats and walking sticks clutched against their cravats? Well, we haven't had that experience, per se, but we assume that would be the reaction.
Fortunately for you, we're here to save you from that potential humiliation! Instead of trying to make those fermented grapes work for your turkey, why not trade them for fall beers? After all, alcohol is alcohol, and Thanksgiving is not the right time to have your fancy pinky out!
Brining the Turkey
Thanksgiving starts with the turkey. And what's the best way to ensure a tasty fowl for your guests to gobble-gobble? Keep it juicy and flavorful with a beer brine! Use a wheat beer for some earthy flavors or go for the doppelbock for a hint of sweetness.
Just don't go overboard — the turkey doesn't need the alcohol to get through Uncle What's-His-Name's dirty joke again.
Starters & Dinner
If you are having splendid hors d'oeuvres or their less formal twins, appetizers, it's only natural to offer an excellent beer selection that matches the tastes of charcuterie and cheese boards, salty nuts, and savory breads. May we suggest a light, crisp German pilsner or a darker, spiced Belgian-style ale? A farmhouse or Saison are seasonal favorites that will get complex flavors and textures into the mix.
For dinner, go for light- to medium-browns: amber ales, brown ales, lagers, and (of course) Oktoberfests! For smokier fowls, try a hoppy brown or scotch ale or head to a porter without the coffee and chocolate notes. Stay savory for supper!
Dessert
Pumpkin pie is coming up, so get the mashed potatoes, string beans, turkey breast, and fennel-sausage stuffing off the palate with a good old IPA. The bitter, pine notes of a pale ale will give your tastebuds the shock they need to recharge for dessert.
Now, you might be thinking, ?Beer is good for dinner, but for dessert? No way!? Well, we're here to squash that misconception!
During this portion of the evening, you can decide what sweets you need before your second stomach fills up. If you're leaning towards a slice of pumpkin pie, bring in a sweet and spicy pumpkin beer. During this season, you have your pick! If you're cutting the cherry or apple pies, a sweet and sour fruity beer will pair nicely.
Nightcap
Finally, as the evening is coming to a close and the coffee is brewing, perhaps opt for a different kind of brew. Break out the breakfast stouts with dark notes of bittersweet chocolates and coffee, ending the night with the flavors and brews that will dominate the fast-approaching winter season.
If you are smitten by beer like the Fizzics crew, check out our beer dispensers, which can turn any beer into a smooth, nitro-style brew in seconds! Give your guests a new way to taste their favorite beers at this year's big Thanksgiving shindig.